Greetings. *dances my way into your Reader*
I'm back. You didn't expect to hear (or read, for that matter) from me so soon, did you? *winks* I'm pretty sure this post won't be as messy as the last one.
I also forgot to acknowledge that my (second!!) blogging anniversary was this past August. This has been a wild ride and I can't wait for what awaits us, my dear followers!
---
I have been thinking a lot about apologies and forgiveness lately. Sincere apologies are hard to come up with, unless you're talking about me. (read my previous posts, for example. You'll see most of them tagged with some sort of apology. 🙂 )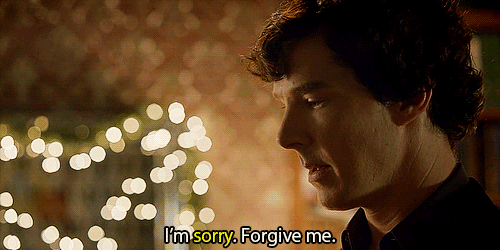 I apologize about literally everything, from sneezing to accidentally bumping with someone. It's second nature to me. It's a wonder I don't apologize for breathing!
There were lots of times when I apologized for things that were either:
Outside my control
Part of who I am as a person
I have recently understood why I'm like this. It has to do with the fact that I always believed I was less than everyone else. Less smart, less clever, less funny. I felt like everyone had this chip or programming that helped them act on certain situations, and I didn't. Others simply knew better and I had no choice but to follow. I did not understand why people acted in a certain way.
It was frustrating to always wonder why I was alone. This was why I felt like I did not deserve to have friends (or at least, that I had to come out of my usual behavior or way of thinking to have them.) I felt like I had to apologize for simply hanging out with them. Or stop being myself, in a way. More than one person has expressed their concern about this to me. Someone literally said they hated hearing the words "I'm sorry" from me.
And I got why. Eventually.
"Apologizing does not always mean you're wrong and the other person is right. It just means you value your relationship more than your ego."
― Mark Matthews
This quote has much to do with my previous MO when it came to apologies (even though I hadn't read it before researching for this post). I say previous, because these past few years, I've learned a LOT about myself. I've learned what I like and what I don't. Most important of all, I've learned that I don't like feeling like less than other people. And most of the time I valued relationships/friendships more than I valued myself! I did not realize how much I was hurting myself. Having to apologize frequently… it took a bit of myself every time I did it.
Don't get me wrong, there are times when an apology is needed. When not apologizing makes you literally an asshole. The person who apologizes shouldn't feel pressed by the one who will receive the apology, though. (By this, I mean: you can tell the person directly that you feel hurt by what they did… after explaining what they did. But the apology should come directly from that person.) The whole point of the apology is that it has to be genuine, sincere… and pushing someone to apologize would take that away from it. It would be wrong, in a way.
Still, an apology is always a good way to fix things, and it's nice to know that a genuine one can help rebuild a relationship. 🙂
---
I am aware that this post might make me sound sort of selfish, but I've realized these things about myself along the way… and this blog is all about discovering myself. It's interesting how, even being almost 21 years old, I keep discovering things I did not know, and somehow growing into a person I did not expect becoming… even though I sometimes realize I'm not as good a person as I thought before. Thanks for reading! 
Any thoughts? Suggestions? The comments are open! 🙂