Hello, people. I wasn't tagged on one of these, but it sounds so fun and I really wanted to do it! These are some of my favorite things and I wanted to try it.
Basically,
The idea of this tag is that the previous person will tag someone with ten books that they have to respond to with gifs. Hopefully that makes sense, but I think it will become clearer once the actual tag gets started.
---
The books that Stay and Watch the Stars chose were
The Hunger Games by Suzanne Collins
(sorry, sorry) I do like the first book. I read it years ago, and I remember not being able to put it down! I loved the premise, and I do love how Katniss is portrayed. (Both in the movies and the books.) She's not exactly a likeable character. She's just working to survive at first. Anyway. I do like these books.
Ash by Malinda Lo
I don't know this one, sorry :3
Twilight by Stephenie Meyer
I must admit, I was a Twihard. I still love the books and am planning to reread them soon. I regret how much hate the books have gotten… I liked some of the characters… but Bella… well, I didn't like her much. 😀 Twilight is one of my guilty pleasures now.
Eleanor and Park by Rainbow Rowell
I haven't read that one yet 😦
Steelheart by Brandon Sanderson
I don't know 😛
Code Name Verity by Elizabeth Wein
Sorry (?)
The Mortal Instruments by Cassandra Clare
This is the perfect gif to represent my relationship with these books. I love Cassie's writing and I own some of her books (TID!!) but I sometimes felt like the books had dragged on. I didn't know whether to go on or to stay (CoHF was amazing, though. I'm glad I stayed) So I don't know. She made up for it on the last books. 🙂
Graceling by Kristin Cashore
Okay, you get the feeling. Graceling gave me the feels. I can read it, reread it over and over and I'll still feel the same way. It's one of my favorite books by far, and I wish it got more recognition. 🙂 Po ❤ I love him, I love the plot, I love the writing and it is one of the books I will always recommend to my friends.
The Raven Boys by Maggie Stiefvater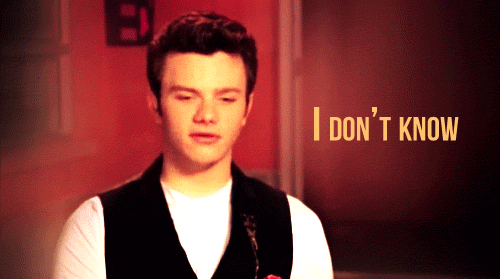 (Sorry)
Guy in Real Life by Steve Brezenoff
Again,
---
My list of books:
Percy Jackson & The Olympians by Rick Riordan
The Mara Dyer trilogy by Michelle Hodkin
Anna and the French Kiss by Stephanie Perkins
The Da Vinci Code by Dan Brown
Harry Potter by J.K. Rowling
Vampire Academy by Richelle Mead
Landline by Rainbow Rowell
Graceling by Kristing Cashore (Because I love it that much)
Fangirl by Rainbow Rowell
Looking for Alaska by John Green
So… Who am I going to tag?
… And whoever else wants to do it! It was so fun!